Valentine's Ride
Dates & Time
Package Must Be Purchased ONLINE
Wednesday, February 14, 2024
Check time availability during booking
Experience the ultimate romantic getaway this Valentine's Day with Charmingfare Farm's Valentine Sleigh Ride! Climb aboard a horse-drawn sleigh for a picturesque journey through a winter wonderland, hand in hand with your loved one. The snow-covered landscape provides the perfect backdrop for a cozy, intimate adventure.
Halfway through your enchanting ride, we make a special stopover at a crackling campfire. Here, you and your sweetheart can snuggle up under the starlit sky while savoring a warm and hearty soup. The delicious flavors will tantalize your taste buds and warm your soul.
Surrounded by the soothing sounds of nature and the soft glow of the campfire, you'll have the opportunity to create cherished memories together. It's a Valentine's Day celebration like no other, where romance, nature, and delicious food come together for an unforgettable evening.
Make this Valentine's Day extraordinary with Charmingfare Farm's Valentine Sleigh Ride, where love is in the air, and every moment is a heartwarming experience.
Homemade Chicken Noodle Soup
Served with Crackers
Assortment of Chocolate Treats
Hot Cocoa & Bottled Water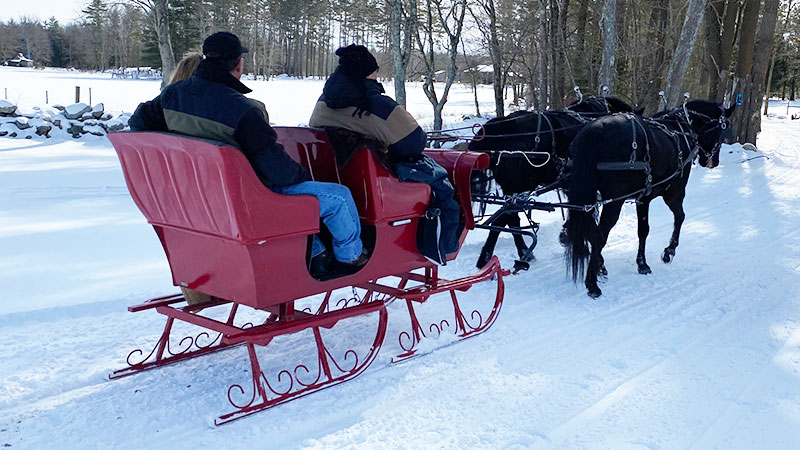 Romantic Sleigh
$269 per sleigh
Up to 2 passengers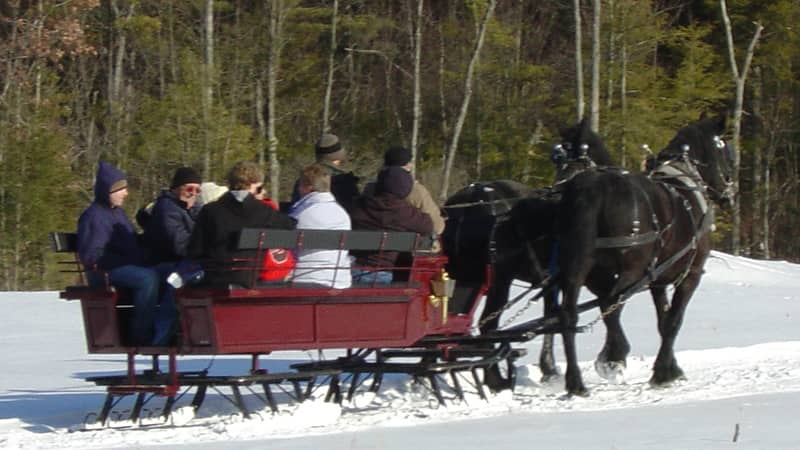 Meadowbrook Sleigh
$59 per person
Up to 10 passengers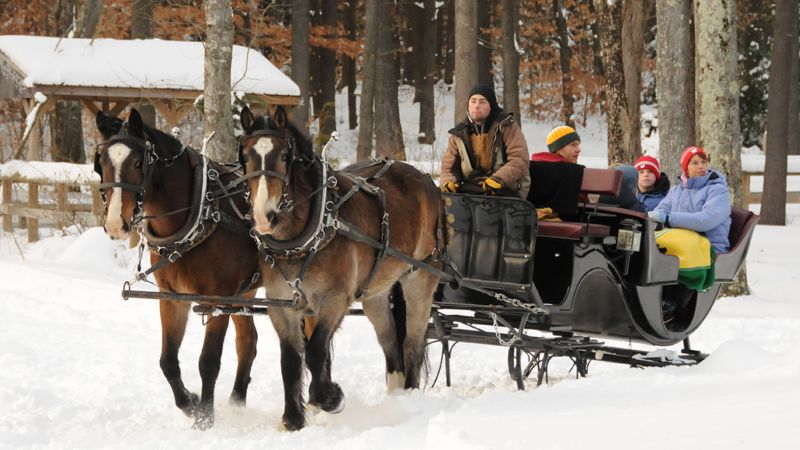 Vis-A-Vis Sleigh
$269 per sleigh
Up to 4 passengers
The ride will happen REGARDLESS OF SNOW. If trail conditions are not suitable for sled runners we will use an appropriate wheeled vehicle.

Be sure you have reviewed which booking option you have selected and each rides capacity.

Please be sure to review our Policies especially regarding WEATHER.

You should plan on arriving 15 minutes prior to your selected time. Unfortunately, if you arrive late you will forfeit your ride.

Dress appropriate for outdoor weather. Hats, scarves, mittens, boots and a warm coat are important. Consider bringing along a blanket. We find sleeping bags work great.

The MENU is include in the price you have paid for the sleigh ride.

You may bring along additional refreshments and beverages if you wish.

Plan on being at the farm for approximately 1.5 hours.